SEE CALENDARS BELOW FOR CURRENT CLASS DATES  /  CLICK ON THE CALENDARS FOR A LARGER VIEW
 CLASS HOURS: 8:00 am to 3:30 pm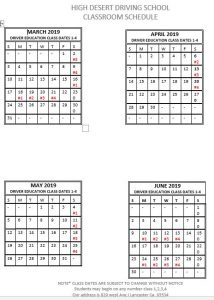 OFFICE HOURS
661.940.8835
MONDAY – FRIDAY 10:00AM TO 5:00PM
1) Click on the register tab at the top.
2) Now fill out the registration form and choose the plan you want, click next.
3) T
he following page is the packages and prices to choose from for Pay Pal.
4) Follow the link to Pay Pal and pay with a credit card or use your Pay Pal account. 
5) Or call us at 661.940.8835  Monday – Friday 10:00 am to 5:00 pm to register.